We hosted benefits in 2013 and 2015. Proceeds went to the David Sheldrick Wildlife Trust, supporting their exceptional work rescuing, rehabilitating and reintroducing African orphan baby elephants into the wild.
2013 Benefit
Our first benefit was held on 10/24/13 in an elegant Fifth Avenue apartment on the 15th floor with a view of The Metropolitan Museum of Art. Pictured below is the custom cotton goody bag.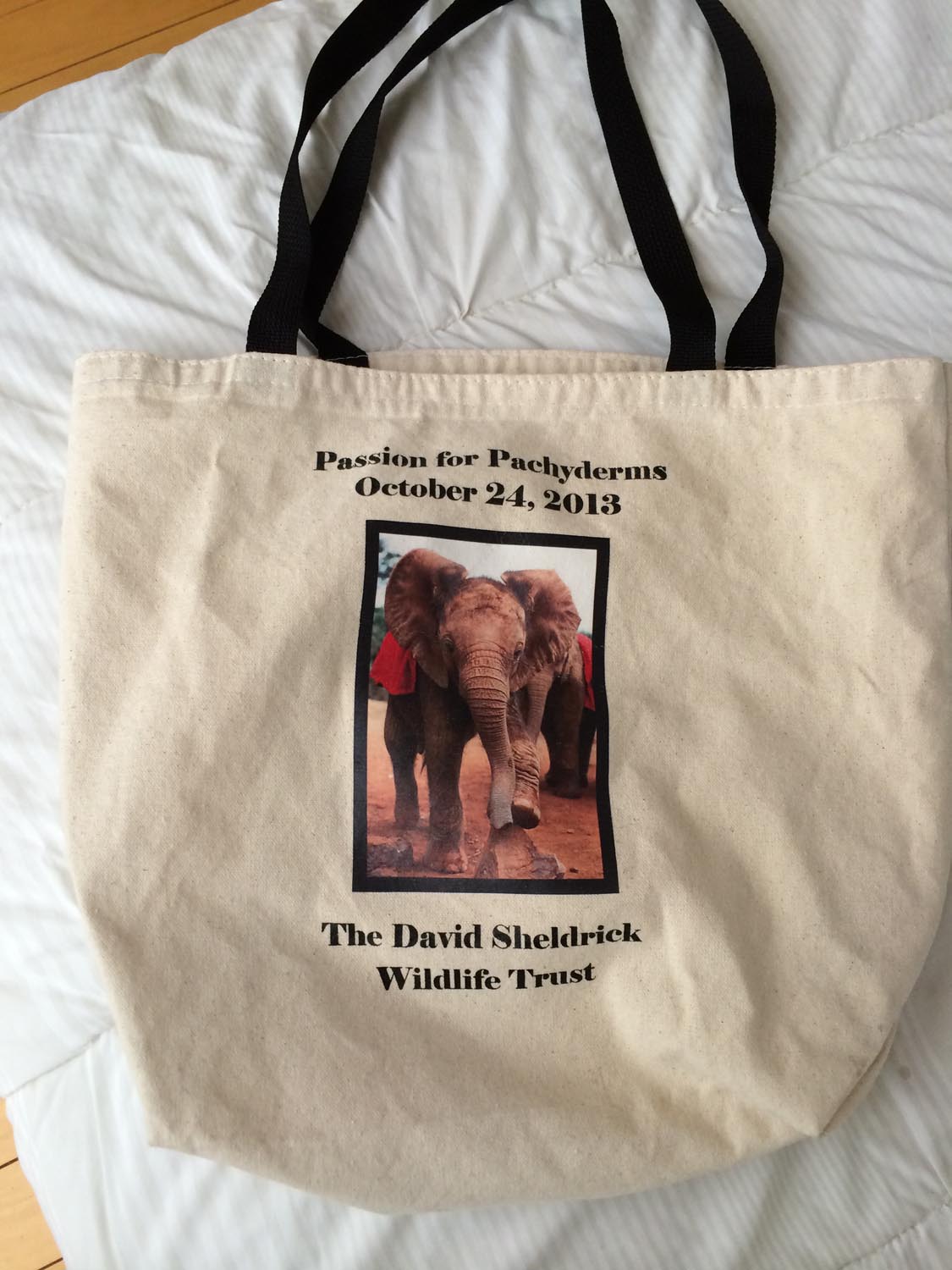 Thank you to Joseph and Susan Plumeri, who generously donated the space, and to Rachel Goldman and Kiera Jaffin, who helped plan the event.
2015 Benefit
On December 3, 2015, we gave our second benefit for DSWT in a magnificent apartment with an incredible panoramic view from the 86th floor opposite the United Nations and with extraordinary original art. We were honored to have a Grammy winning pianist Earl Rose play his wonderful music for several hours.
We gave a custom cotton goody bag depicting a special DSWT story. Wendi –- a 2 month old orphan when rescued by DSWT many years prior and reintroduced into the wild several years ago – reappeared on October 13, 2015 to show her new baby, Wiva, to the keepers who saved her. DSWT has had approximately 21 similar miraculous success stories.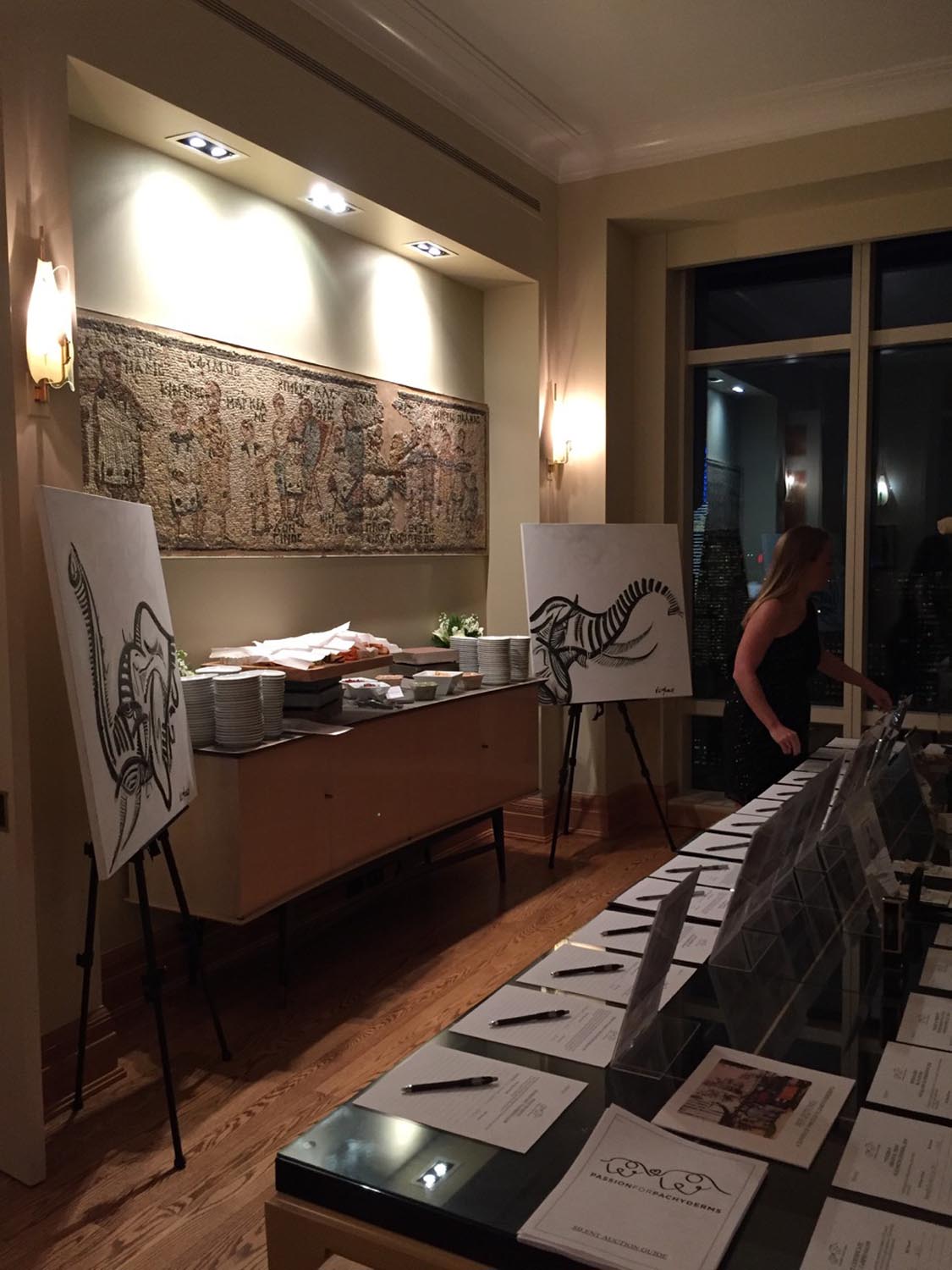 Thank you to Dr. William and Maria Haseltine, who generously donated their apartment, opposite the United Nations building and to Rachel Goldman and Sophie Roche Conti who were my party planners.
OTHER BENEFITS
Dame Daphne Sheldrick was honored as the keynote speaker at the World Wildlife Film Festival in Jackson Hole, Wyoming. We attended our first DSWT benefit on September 25, 2013 - Richard's 78th birthday.
Richard and I also attended the Harambe benefit for DSWT on his 80th birthday September 25, 2015 in London. Speaking with Dame Daphne Sheldrick was perhaps even more inspirational and heartwarming than our initial meeting.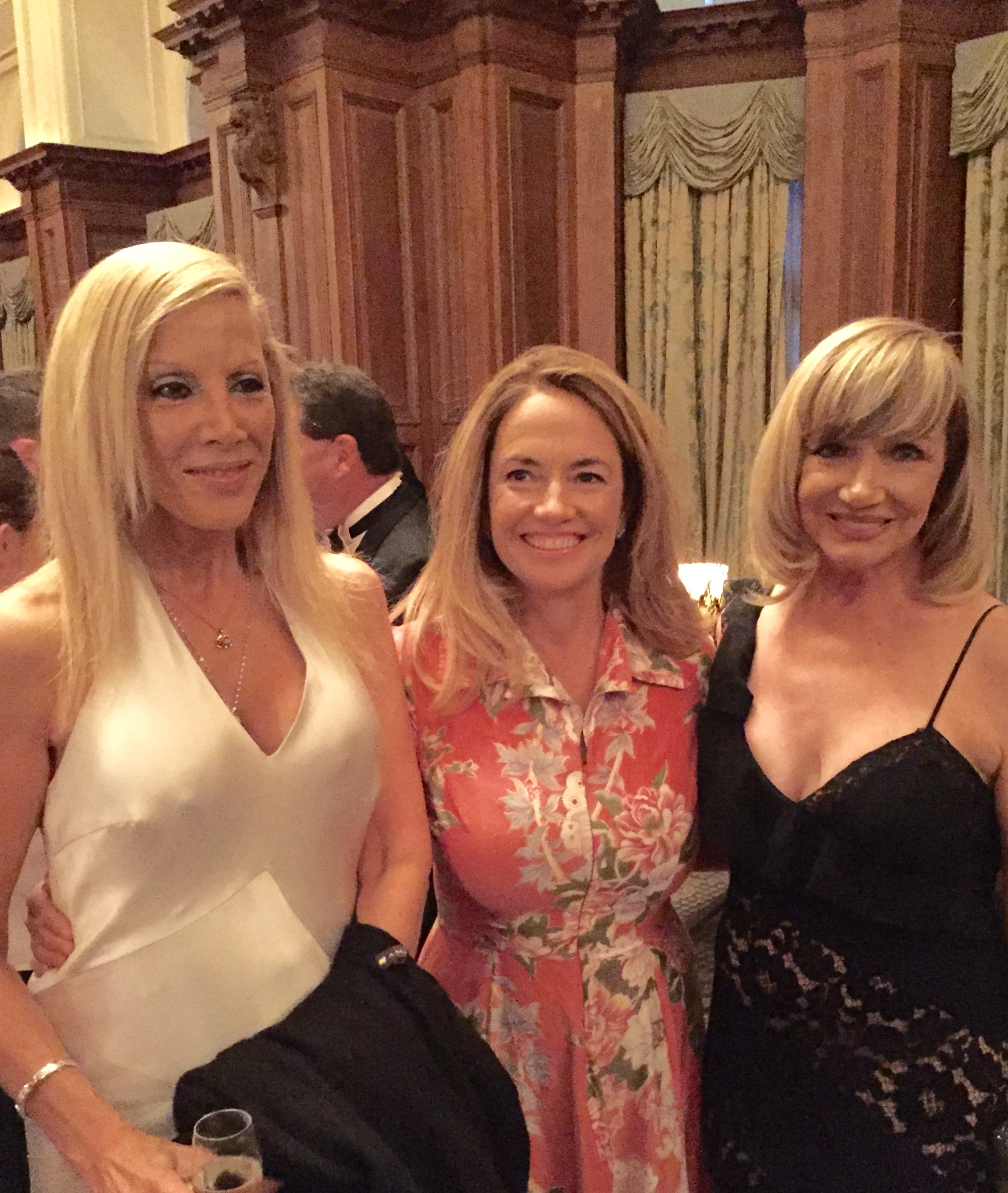 Special Thanks
At both benefits, 121 Group generously donated the delicious food with wonderful chefs and employees serving in a seamless fashion. The table cloths were appropriately textured grey for elephants! Thank you!
My children Alexandre and Sabrina helped with all of the presentation of the silent auction items including photos, displays and presentation.
Thank you to Jackie Cittone Magid who is on the board of DSWT, who spoke and gave informative presentations at both benefits.